Frostline® Vanilla Flavored Yogurt Soft Serve Mix, Artificially Flavored, Fat Free
LIST OF INGREDIENTS
Sugar, Nonfat Dry Milk, Corn Syrup Solids, Nonfat Yogurt (Cultured Nonfat Milk), Cellulose Gum, Soy Lecithin, Salt, Guar Gum, Artificial Flavor, Xanthan Gum, Yogurt Culture (S. thermophilus, L. bulgaricus).

ALLERGEN INFORMATION

Product contains Milk or Milk Derivatives
Product contains Soybeans or Soybeans Derivatives
DIRECTIONS FOR USE
Fill a clean Frostline® bucket with cold water until it reaches the red line (8 quarts). Add entire bag of Frostline® dry soft serve mix. Stir with wire whisk until completely dissolved (about 2 minutes). Pour the mixture into your soft serve machine OR cover with lid and store in refrigerator.
The product requires a commercial soft serve machine

YIELD/PORTION

Number of 2/3 cup (117g) prepared servings per bag: About 88
Number of 2/3 cup (117g) prepared servings per case: About 528
Note: A volume amount of 2/3 level cup, weighing 117g, of frozen prepared product is based on 40% overrun. Depending on the amount of overrun your soft serve machine is set up for, a 2/3 cup of prepared soft serve may weigh more or less than 117g and will affect the number of servings.

PACKAGING / STORAGE INFORMATION

Prior to reconstitution, this product will be stable for up to 18 months when stored unopened in a cool, dry place.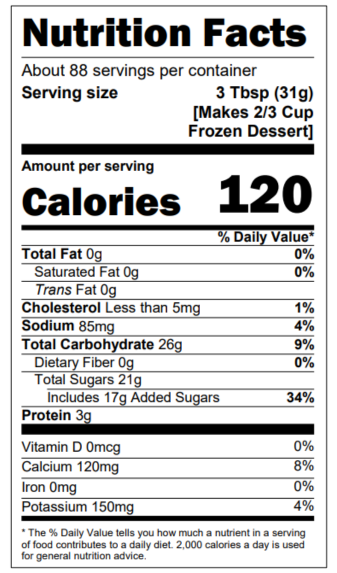 You might also like these products